Every company needs stock photos or graphics – whether for the website, the brochure or the roll-up at the trade fair. Meanwhile there are many excellent photo agencies on the internet that have the right stock photos for every need. Here is an overview of the most interesting stock photo agencies. (Status January 2020)
---
Photocase is a Berlin-based photo agency and offers a manageable, but very high-quality and unusual stock photo portfolio. Photocase is the right contact point for those who are looking for photos off the beaten track. Photos are available in single purchase from 13 €. With subscription packages licenses are available from approx. 1,37 €/photo.
Link: photocase.com
---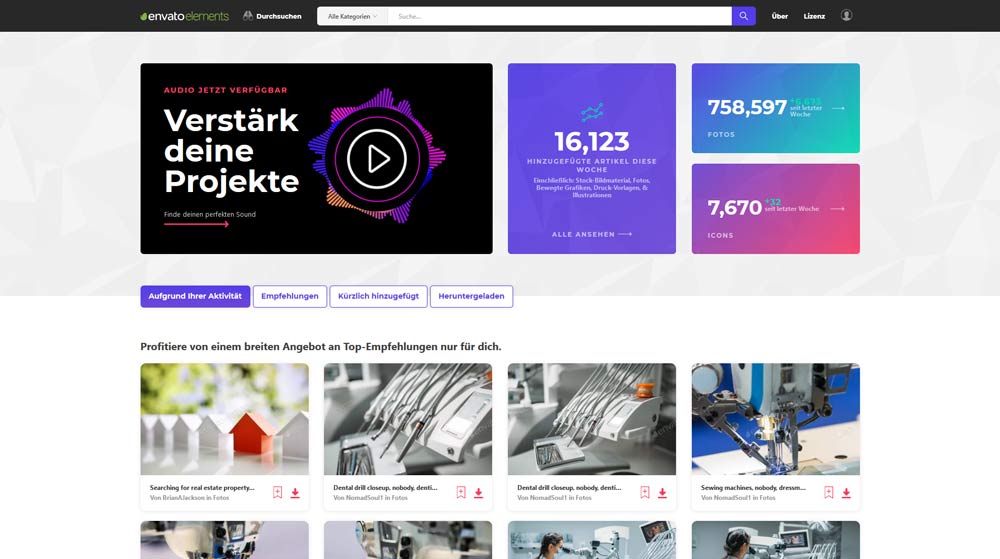 Since 2019 the picture agency Twenty20 has been part of Envato Elements. The picture agency has expanded the Envato portfolio by more than 20 million photos. Envato is recommended for people who depend on a variety of media formats for their daily creative work. Here the picture agency it is a true paradise. For just 14,50 € per month you get access to many millions of photos, vector graphics, videos, sound files and much more. Another important plus point is the simple and fair licensing model.
Link: elements.envato.com
---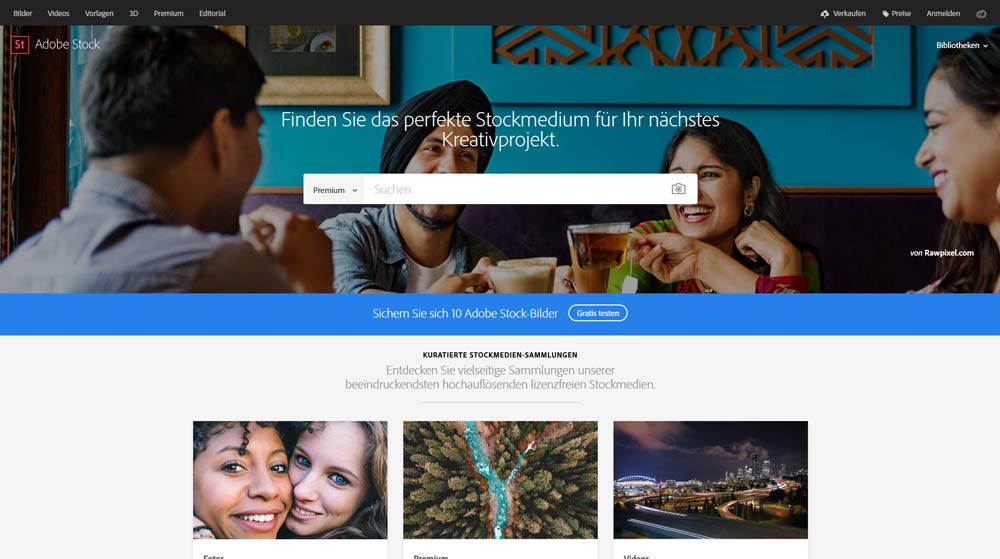 Adobe Stock is one of the most powerful international stock agencies, with nearly millions of images. The concept is comparable with istockphoto. The advantage for Adobe users is that the portal is already integrated into the creative cloud. For example, a monthly package (can be cancelled monthly) with 40 images is available for 99.99 €. In addition, credit packs are available for purchase, which are valid for one year.
Link: stock.adobe.com
---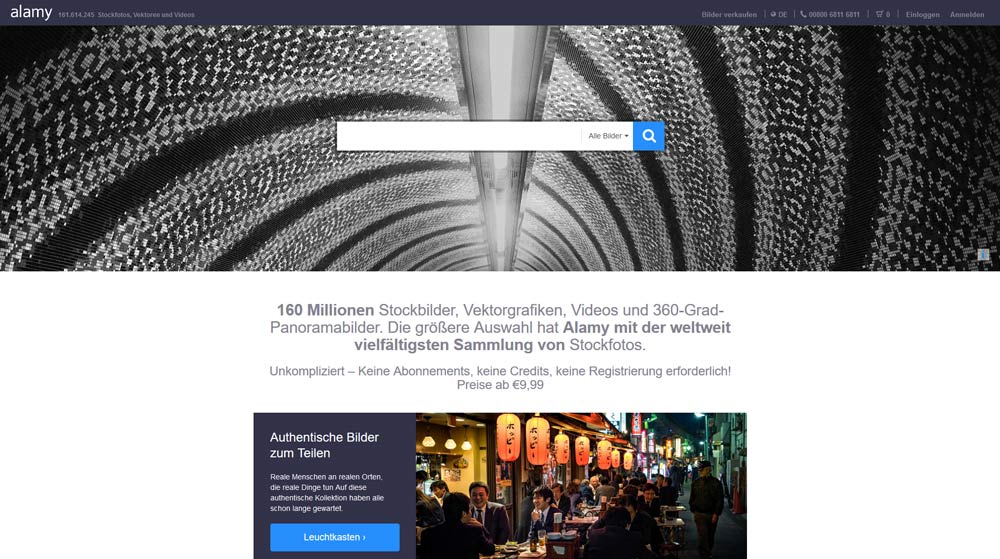 Screenshot: Alamy.de
Meanwhile the diverse Alamy collection includes more than 189 million stock images, vector graphics, videos and 360° videos and panoramic images. Besides common stock material, Alamy also offers daily updated photos for editorial use and historical photos. No subscription is necessary and images are available from 9,99 €.
Link: alamy.com
---
istockphoto is part of the large, well-known photo agency Getty Images and is one of the major international stock photo agencies. Millions of photos, graphics and videos are available. There are cheap photos (Essential Collection), which you have probably already come across one or the other time, but also high-quality & expensive stock photos (Signature Collection) which are less widespread. In single purchase the pictures are available in the smallest credit package (3 licences) from 8 € / photo. If you choose a subscription package you can buy the photos at a lower price.
Link: istockphoto.com
---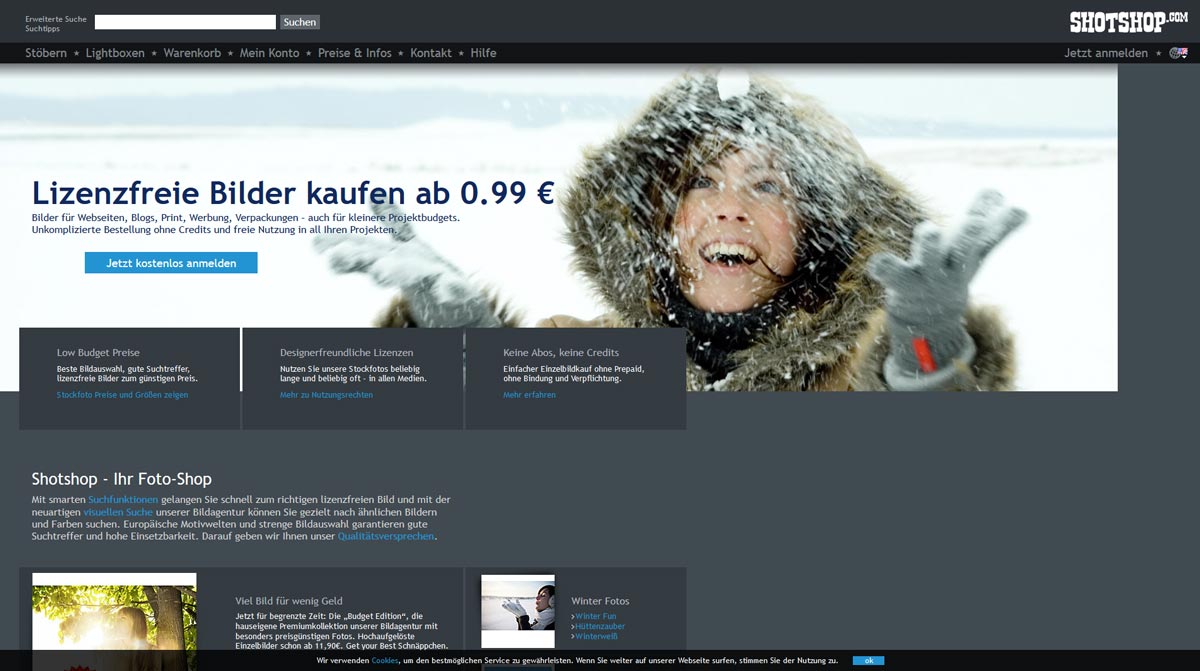 Shotshop.com is a German picture agency. Photos can be found either by using the category sorting or a regular search. The cost per stock photo starts at 0,99 €/licence.
Link: Shotshop.com
---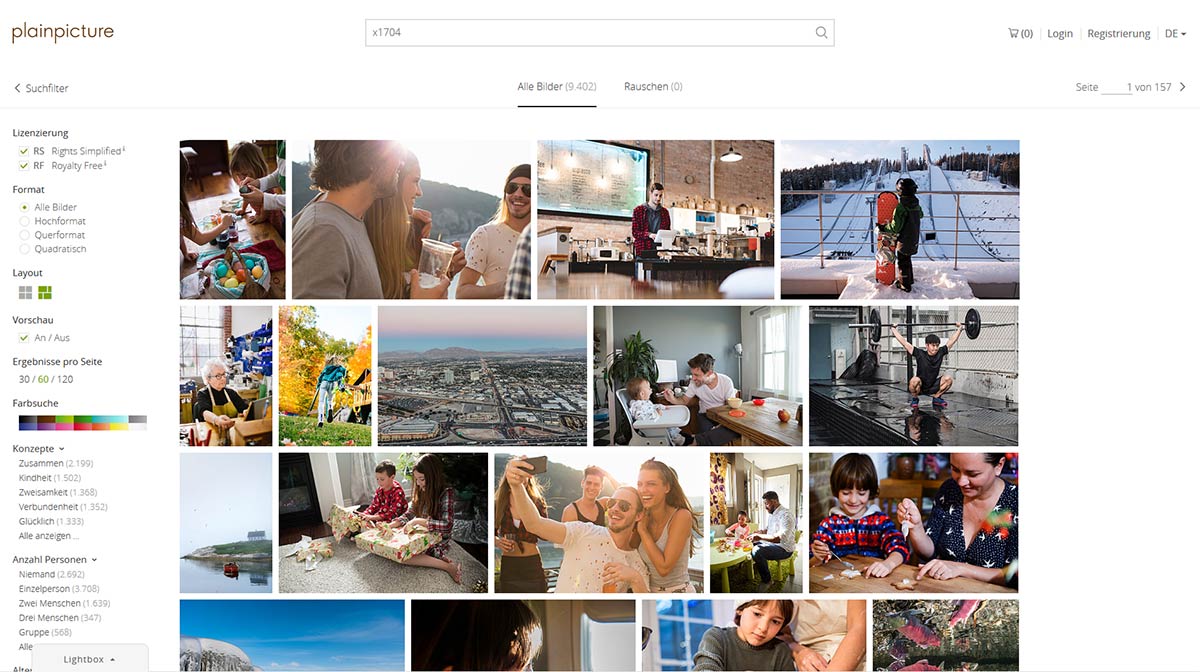 Plainpicture is the right picture agency for all those who are looking for extraordinary and fresh pictures. Picture prices are in the premium segment just like picture quality. The perfect picture agency for individualists.
Link: plainpicture.com
---
imago images is Germany's largest owner-operated photo agency. The agency has a portfolio of more than 77 million images. Depending on the type of use, an image licence costs between 19 and 99 euros. With the image packages on offer, additional money can be saved.
Link: https://www.imago-images.com
---
Zoonar is a German picture agency based in Hamburg. The portfolio contains more than 9 million pictures. In addition to photos, many graphics are also offered. The prices per licence start at 2 € per image. The search function has few sorting options compared to other picture agencies.
Link: http://www.zoonar.de
---
Dreamstime is an international photo agency with a selection of 121 million stock files (photos, video & vector). Photo licences are available from as little as 0.19 € / picture. Selected stock photos are even available completely free of charge.
Link: Dreamstime.com
---
This picture agency is in the medium price segment and scores with its attractive subscription models and uncomplicated licences. The pictures also make a very high-quality impression.
Link: Adpic.de
---
Shutterstock offers its users 317 million stock files. In addition to stock photos and vector graphics, there are also audio tracks and video material available for download. For blogs and media, there is also a large selection of high-quality editorial photos.
Link: Shutterstock.com
---
The picture agency Pullpix serves an interesting niche in the agency segment and offers photos in the gigapixel range. So here is the right place for everyone for whom big is not big enough.
Link: Pullpix.de
---